Frequently Asked Questions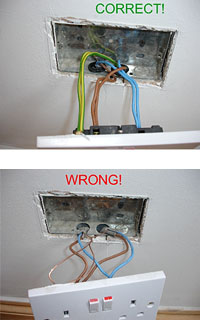 My light bulbs keep blowing!
Wednesday 25th June, 2014
Lamps are always going to last longer if they are used correctly. One observation we have is with poorly installed halogen down-lights. With building ...
I think my property is old and could probably do with a re-wire
Wednesday 25th June, 2014
It's always good to be conscientious about electrical safety in the home. One thing's for sure, a complete re-wire is going to rectify any problems ...
I'm buying a new home, and the surveyor says i need the electrics checked.
Wednesday 25th June, 2014
We get this question a lot, and usually what they're asking for in an EICR (Electrical Installation Condition Report). We provide this service of com...
Why use an NIC EIC approved contractor?
Wednesday 25th June, 2014
Cutting corners can have dangerous consequences, so in the interest of safety homeowners should use a professional and fully qualified electrician to ...
My RCD is tripping!
Wednesday 25th June, 2014
Ok, it's probably something simple that's causing this. Simply follow these simple steps. 1) Your RCD protects probably more than one individual cir...